FREE INSPECTION APPOINTMENT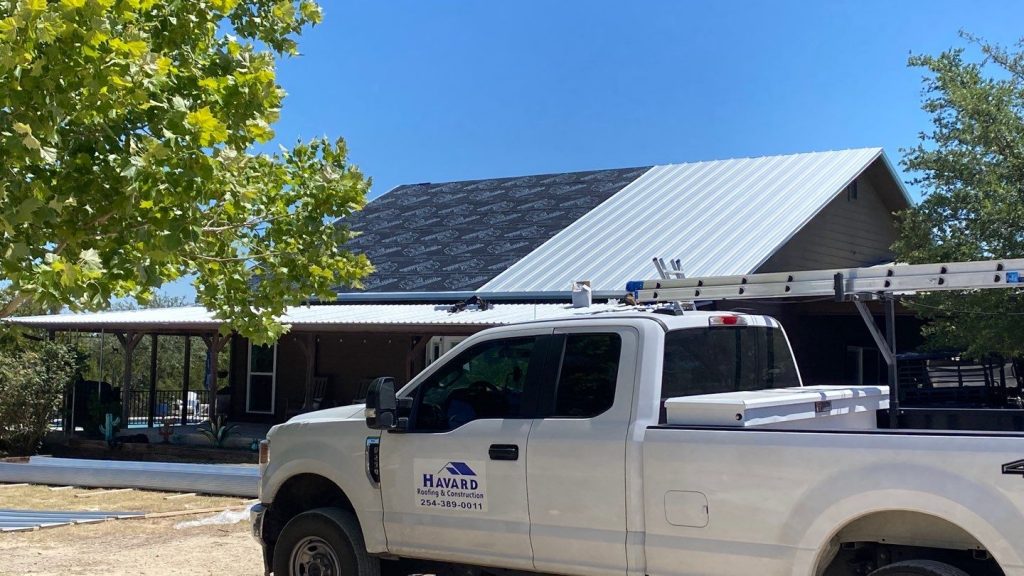 Building owners, property managers, and residential owners have trusted Havard Roofing with top-quality metal roofing in Austin. We're well-recognized in Austin and surrounding areas as a leading provider of top-notch and superior metal roof systems and services.
Every employee is committed to not only top-quality workmanship but also the safe, effective delivery of service. We educate, train, and pay every crew well because we believe in their outstanding service.
Our metal roofs tend to last longer than conventional asphalt roofing. They boast the ability to withstand harsh weather conditions. Long gone are the days when standing seam metal roofing was the only option for metal roofs. Today, there exists stamped metal shingles that come in profiles like shake and slate.
Being among the most knowledgeable and experienced Austin metal roofing companies, Havard Roofing is fully equipped to advise you on the best roofing solution for your building. If you're in the market for a new metal roof or just have questions about your current one, please don't hesitate to reach out to us today! We offer free roof inspections and would be more than happy to help you in any way possible.
We offer a lifetime transferable warranty on most of the metal roofing systems we offer. This goes miles to show our confidence in the quality of our work.
If you're a homeowner with a damaged metal roof and have questions or would like us to come for a thorough inspection? Feel free to get in touch with us. As a reputable and transparent company, we believe in giving everyone that contacts us the utmost due respect. Rather than a sales pitch, we'll provide our honest opinion about the safest and best route to take.
If after inspection we honestly feel that repairing your metal roof is the way to go, we'll let you know. On the other hand, if we feel that a roof replacement is in your best interest, we'll make sure to state why. We provide as much valuable and helpful information as possible to enable you to make a solid, long-term decision.
When it comes to metal roof repair, we're the best in the business. We use only the highest quality materials and our team of highly trained professionals will work quickly and efficiently to get the job done right the first time.
Many metal roof repair companies will turn up their noses when the repair job is a small project – not us. Our metal roof repair crew has successfully handled countless repairs in every shape and size. We boast the necessary experience to solve all your metal roof problems.
It is important to be on the look for signs that your metal roof needs repair or replacement. One common sign is leakage. If your metal roof is leaking, it is best not to wait to get it fixed asap as leaks can cause significant damage to the interior of your home or business.
Another sign that your metal roof might need to be replaced is if it is showing signs of rust. If you see rust on your metal roof, it is important to have it inspected and repaired as soon as possible. Rust can spread quickly and cause extensive damage to your roof.
Wrinkling is also a pointer that you might need to replace your metal roof. If you see wrinkles or dents in your metal roof, it is a sign that the metal has lost its shape and is no longer able to protect your home or business from the elements.

"Justin and his crew did a great job on the roof repair for our house and shed. Hard working, efficient, and paid attention to details. I also really appreciated them really taking the time to make sure they had every little thing picked up after the job was done. I saw them triple check areas for nails."
"Highly recommend Justin and his team. Great communication and worked with us to get the job done with a tight timeline quickly and professionally. Could not be happier with our new roof and the whole process was smooth and hassle free. Great local company!"
"Justin came out to assess in a timely manner and went above an beyond to get the job done. The quality of his work and his professionalism just can't be beat. I highly recommend Havard Roofing and Construction. I couldn't be happier with the outcome of our new roof. Top notch service for sure!"
"Eric and his crew did an excellent job installing our new roof today. Strongly recommend giving Eric a call for all of your roofing needs."
"Eric and his team put a new roof on our home a couple of months prior to the catastrophic Salado hail storm. After the storm, no damage at all. Great company!!"